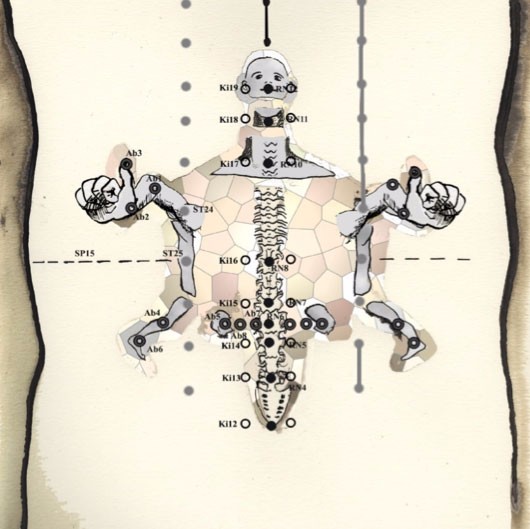 Ren 12 (Zhongwan) treats the head and is located specifically at the mouth;
Ren 11 (Jianli) exerts its effect on the throat and neck and anatomically relates to the 1stcervical vertebra;
Ren 10 (Xiawan) is located on a level with the 7th cervical vertebra;
Ren 9 (Shuifen) is equivalent to the 7th thoracic vertebra;
Ren 6 (Qihai) coincides with the 1st lumbar vertebra;
Ren 4 (Guanyuan) is the tail of the turtle and relates to the 4th or 5th lumbar vertebra;
St 25 (Tianshu) treats the mid back area;
Sp 15 (Daheng) is the outer boundary of the turtle;
St 24 (Huaroumen) corresponds with the shoulder. The elbow is found 0.5 cun superior and lateral to this while the wrist is found 0.5 cun inferior and lateral to the elbow. This gives the shape of an inverted V;
St 26 (Wailing) corresponds with the hip point. The knee is found 0.5 cun inferior and lateral to the hip point, and the ankle point is on a line 0.5 cun lateral and inferior to the knee point. Hip, knee and ankle should look like a backslash .